Loggia
What Is a Loggia? Way Nicer Than a Porch or Patio—Here's Why
By

Jennifer Geddes

|

Aug 4, 2017
What is a loggia? The Italian word for "lodge," loggia is a covered space running along the length of a building similar to a porch, but with columns or arches on the open side.
Loggias have been incorporated into palaces, museums, and other grand buildings for thousands of years, particularly in Italy, Greece, and Spain. But this architectural feature can also be found in the U.S., particularly where the weather is usually warm, like in the Southern and Western states.
While loggias are often found on large public buildings, they are a luxurious addition to residential properties. Here's what you might want to consider if you're thinking of buying a home with one, or adding one to your existing house.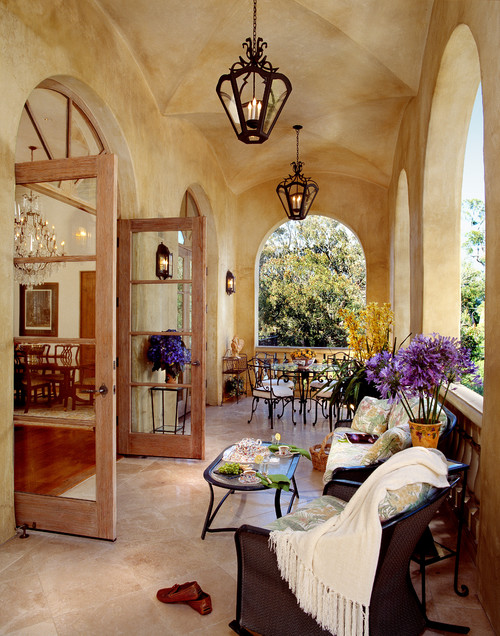 Photo by Giffin & Crane General Contractors Inc.
Benefits of a loggia
It's entirely understandable why loggias have withstood the test of time and remain popular to this day: They let the outdoors in, expanding livable space. Plus, curvy arches and tall columns make a home with a loggia seem more dramatic than one with a plain old porch or patio.
"A loggia definitely improves the quality of your outdoor life and can add elegance to a home," notes Cedric Stewart, a real estate agent in the Entourage Residential Group at Keller Williams Capital Properties, in Washington, DC.
A loggia also offers protection from sun and rain and more. As such, there's no need for a patio umbrella, and outdoor furniture and other accessories will stay in good condition longer without constant exposure to the elements.
Loggia decor
Of course, a loggia's open arches will still expose you to Mother Nature, so choose furniture wisely. Sturdy pieces made of rust-resistant wrought iron are smart here. Or if a more casual vibe matches your style, acrylic or recycled plastic are other good options. Top these seats with weatherproof outdoor fabrics made for patios and pool decks.
Loggias often have a more formal feel than a screened porch or patio, so you'll want to choose decor that fits the bill. Need inspiration? You might riff on a Mediterranean theme, since loggias are Italian in origin, which can mean colors that evoke the ocean or countryside, bright rustic wall tiles, and burnished metal accessories.
Drawbacks of a loggia
Photo by Colonial Homecrafters Ltd.
Unlike a sunroom, which is completely enclosed, loggias do require fairly good weather to be enjoyed. Even with the roof above, wind and rain can sneak through the open side; plus you'll have to keep up with sweeping leaves and dirt that blow in.
Loggias can also be expensive to install, as columns and arches are usually custom jobs.
"If you put one in after purchasing your home, you probably can't expect to recoup the investment dollar for dollar," explains Stewart. "Additionally, a loggia may narrow the pool of buyers interested in your home, which could lead to more days on the market."
However, if you love the idea of an expansive, Italian-style outdoor corridor, a loggia is just the ticket. See it as a way of extending a home's living space—and a way to transport your mind to the sunny shores of the Mediterranean just by walking right out your door.
Author:
Darik Steinbach
Phone:
952-239-4290
Dated:
August 8th 2017
Views:
107
About Darik: I have been selling residential real estate in Minneapolis full time for 10+ years. I constantl...